24 april 2014
Sirenia confirmed at MFVF12
Sirenia signed with Napalm Records
SIRENIA have signed a record deal with Napalm Records!

The Austrian label is more than excited to welcome back the band on their artist roster:
"Morten is an amazing songwriter und with his band SIRENIA they still belong to the top of Gothic Metal. We barely can´t wait to check out the first new songs and to release the new album in early 2015." Says Nadir Amrioui / A&R of Napalm Records.


Morten / SIRENIA comments on the signing:
"We are very excited about having signed a new deal with Napalm Records. This is where Sirenia began our career 13 years ago, so it feels like a homecoming in many ways. Looking forward to keep on bringing our music out to all the metalheads around the world together with Napalm. There is much more to come. Cheers!"
07 december 2013
Sirenia invites you to Australia
07 augustus 2013
Sirenia comes to Australia!
SIRENIA will be touring Australia in December this year!
One of the pioneer Symphonic Gothic Metal artists, Sirenia is the complete package; they have a captivating female fronted Symphonic sound, they have a mystique and aura about them with both atmospheric keyboards, guitars and music score while being able to enlighten and uplift the listener with sheer beauty, and they most certainly have the look that captures the attention of the genre and industry in general.


SIRENIA will perform tracks off their stunning and very recent new release 'Perils Of The Deep
Blue', they will also perform a comprehensive selection of tracks across their discography. Maestro band member, Morten Veland, has guided and orchestrated SIRENIA to be one the artists at the very top of this genre and along with the breathtaking appearance and vocals from front lady Ailyn, SIRENIA is a must for any fan of the likes of Nightwish, Within Temptation, Tristania, Epica and After Forever to name only a few.
SIRENIA will only be performing two exclusive shows; one in Melbourne and one in Sydney.


They will be supported on both shows by two excellent Australian artists; Ne Obliviscaris and Orpheus Omega. This just may be the one and only opportunity to see SIRENIA live in Australia.
There will be on offer a strictly limited VIP meet and greet fan pack pass available for these shows and the limited fan pack, which is heaped with Australian only exclusive items, is the ultimate way to cap off a fantastic end to the last few weeks of the year. This fan pack Meet & Greet pass is obtainable from Metal Massacre Online; 





Tickets available trough: www.metalmassacre.com.au
02 augustus 2013
Sirenia titles on Sale at Amazon
There's a few Sirenia titles that are ON SALE now on Amazon & Amazon MP3!
Take a look at http://www.amazon.com/nuclearblast



















21 juni 2013
"Making of" Seven Widows Weep, with band comments
We recently shoot the video clip to the track 'Seven Widows Weep'.
Now you can watch the "making of" including some comments of Jan Erik.
Perils of the Deep Blue will be released at 28th of June.
Pre-order the album and merchandise at the Nuclear Blast webshop. 
04 juni 2013
Official video "Seven Widows Weep"

In April we went to Serbia to shoot a videoclip for the song 'Seven Widows Weep'.
We've been working with the Icode team again, this is the guys that also did the videoclips
for our first two videos; 'My Mind's Eye' and 'The Other Side'.

We had a great time in Serbia, and the recording sessions turned out great.
Now the post production is finished as well and we are very excited to share the video with our fans.
We think that the guys at Icode did a great job and made a video that serves the song perfectly.
The band is very pleased with the video, and we hope that you will enjoy it as well.
03 juni 2013
Second Studio Trailer – Perils of the Deep Blue
02 juni 2013
First Studio Trailer – Perils of the Deep Blue
01 juni 2013
Reveal title, tracklist & cover artwork of the new album!
SIRENIA are happy to reveal first details on their upcoming new album that will be released via Nuclear Blast on June 28, 2013!
The band's sixth studio record was baptised »Perils Of The Deep Blue« and the tracklist of the ltd. digipak edition – including two bonus tracks – reads as follows: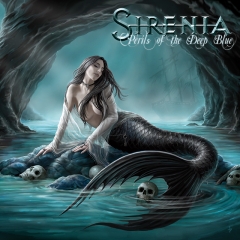 01. Ducere Me In Lucem
02. Seven Widows Weep
03. My Destiny Coming To Pass
04. Ditt Endelikt
05. Cold Caress
06. Darkling
07. Decadence
08. Stille Kom Døden
09. The Funeral March
10. Profound Scars
11. A Blizzard Is Storming
Bonus:
12. Chains
13. Blue Colleen

Regarding his thoughts on the new album, vocalist and guitarist Morten Veland comments: "The entire band and all the people we are working with are absolutely ecstatic about it! This album takes SIRENIA to the next level and brings many new sides of us to the table. There's typical tried and tested SIRENIA stuff but also approaches that you've never heard from us before. I think I've never felt so good about an album throughout my entire career. I mean, I love them all, but this one is something special. It's the result of two and a half years of blood, sweat and tears. I've literally put my heart and soul into this record, so I am very curious to see what our fans as well as the press will think about it!"
»Perils Of The Deep Blue« was produced by the mastermind himself, while the mixing and mastering was done by Endre Kirkesola in Dub Studios, Oslo. "The writing process has been going on for about two years", states Veland. "I always have ideas for new stuff, so I started writing even before we had released our previous album »The Enigma Of Life«. Most of it has been recorded in my own studio. I love to work there as I always feel inspired – plus we can take our time with whatever we do, for there is no time pressure. Just like for all of our previous albums, we also dropped by Sound Suite Studios in France – a great place that feels like home, too. This time we recorded the Marseille choir there that one can always hear on our records, as well as some of my acoustic guitar parts."

The album artwork was originally painted by Anne Stokes – though it wasn't intentionally created to be used as such, as Morten explains: "I came across the artwork on the Internet and immediately fell in love with it for obvious reasons – it's no secret that I've always been fascinated by Greek mythology and sirens. So we got in touch with Anne and luckily she granted us the permits to use it for the record. I actually drew the inspiration for the album title »Perils Of The Deep Blue« from the artwork. In my opinion, it's the perfect SIRENIA cover – there was no way we could have let that opportunity slip away!"

More news on »Perils Of The Deep Blue« to follow soon – stay tuned!